PAPUAAROUND — The Papua Muda Inspiratif (PMI) community held a batik training at the Papua Youth Creative Hub (PYCH) building in Jayapura City, Papua on Thursday (09/03/2023). The activity was held to invite Papua youth to love batik and preserve one of the cultures in the Land of Papua.
In addition, this youth organization supported by the National Intelligence Agency (BIN) aims to develop the creativity, culture and innovation of Papua youth.
Miriam Veronica, a lecturer in the training, said the motifs in the batik made by the participants were authentic Papua motifs.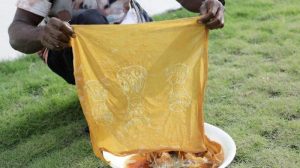 "There are those who lift motifs from their own family symbols, some from plants, some from water animals such as turtles which mean longevity, and many more that we add there, which we take from excerpts of motifs that they have explored," explained Miriam in a written statement, Thursday (9/3/2023).
She continued that the batik process in the training uses two techniques, namely applying batik wax with canting and brushes.
Also read : West Papua Youths Enthusiastically Welcome the Inauguration of the PYCH Building
"The brush is more expressive. For the canting itself, they are still learning to use canting," she explained.
The training participants were very enthusiastic. Miriam admitted that she was very happy because as long as she provided teaching materials, young Papua always asked questions and wanted to try new motifs and techniques.
"Actually, we are just sparking, not teaching, but sparking ideas that they can collect from their own culture, then we pour it into the fabric," she said.
One of the participants, Penita Bumi, admitted that she participated in this training because she has loved drawing motifs since she was a child. She also hopes to inspire Papua youth to participate in preserving Papua culture by making batik.
"Today I'm making batik with motifs from Sentani. This motif is very beautiful, so I made this motif. I am most happy to make this motif because from childhood I was happy and hobby to make motifs," explained Penita.
For information, this training activity is a series of pre-event ahead of the inauguration of the PYCH Building by President Joko Widodo.
Also read : Dozens of Papua Youths Ready to Perform at the Inauguration of PYCH Building